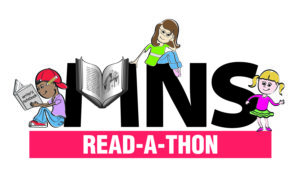 Read-A-Thon 2020 — our only "A-Thon" fundraiser this year — starts Monday, January 27th!
Students will earn fantastic, fun, school-wide and class-wide prizes for reading and raising money for our school!  STAY TUNED and watch out for emails!
For a schedule of Read-A-Thon 2020 events, click here.
What to do now!
DECIDE IF YOUR FAMILY WANTS TO FUNDRAISE ONLINE OR ON PAPER and START FUNDRAISING.   
Help your child come up with a reading and fundraising goal using the top parts of the tracking and pledge sheets (Tracking Read-A-Thon 2020, Pledge sheet Read-A-Thon 2020).
If online: 
Finally, help your child come up with a reading goal and start fundraising by reaching out to family and friends!
If on paper: 
Use the pledge and tracking sheets to calculate reading and fundraising goals.
Contact friends and family to solicit cash and checks. Backpack money raised along with the pledge sheet at the conclusion of Read-A-Thon (please do so in an envelope marked "Read-A-Thon" and your child's teacher). We will then credit your fundraising to your class total!
USE THIS EVENT TO FURTHER YOUR CHILD'S READING.  Think about reading goals both in terms of increasing minutes read outside of school as well as in terms of diversifying the types of books your child reads.  This tracking sheet [Tracking Read-A-Thon 2020] should be used to record your child's reading.  After Week 1 and 2 you will be asked to submit the minutes via a link.
Instructions for how to obtain a library card can be found at https://www.nypl.org/library-card/new/. Or visit one of many local libraries including the Yorkville at 222 East 79th Street or The Webster at 1465 York Avenue
Questions? Email, fundraising@mnspta.org