Auction
Every year, P.S. 290 hosts a Spring Gala Live and Silent Auction that is attended by hundreds of parents, faculty and friends of our school, as well as a Fall Online Auction.
Details about the 2019-20 Auctions will be posted soon.
SPRING GALA & AUCTION - APRIL 13, 2018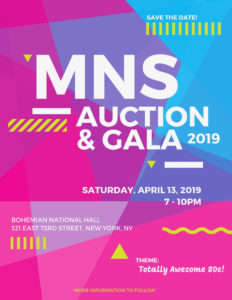 Join your MNS Friends on Saturday, April 13 from 7-10pm at the Bohemian National Hall (321 E 73rd) for a fabulous evening of cocktails, food and your favorite 80's tunes!